Gray stood by the window of the reception parlor outside of the king's study and stared out the window at Sir Wesley and Lady Jennica. That, he thought, was what love was supposed to be like. The shy fluttery smiles mixed in with conversation that was never quite stilted. He clutched the window frame for a moment, his stomach a churning mess. He'd felt like that, once upon a time. Bailey's face flickered in front of him and he blinked rapidly, the last thing that he needed right now was to get the issues confused.
"Lady Tiffany? Why do you always tell me what she said? What does she know?" Gray heard Lady Fiona's voice rise sharply. He couldn't hear Lock's reply, but apparently it wasn't what she wanted to hear. "She's an architect, that doesn't make her all knowing about interior design."
And he was pretty sure that that was not a way that love was supposed to be like. Lock was his king, son of his lord, and someone to whom Gray's loyalty was settled on unwaveringly. He would have followed Lock into hell itself with hardly a thought. And certainly Gray didn't know anything about picking a consort for a king, but so far he was not nearly as impressed with Lock's lady as Lock seemed to be.
But that was a dangerous path, because it brough him full circle, to the young man currently laying in Gray's guest room, probably asleep or if not floating in and out of a sedated haze. Lady Kennedy had told him that it was probably better that way.
"Your majesty." The argument from the next room had apparently come to it's close because the next thing that Gray heard was the door opening. "Lord Gray." Lady Fiona said, a cool light tone, as if she hadn't been yelling loud enough for Gray to hear her in the next room–over the king's not unimpressive sound muffling spells–just moments before.
"Lady Fiona." He turned from the window and bowed. She breezed past with little more than a smile. Lock stuck his head out the door after the sitting room door closed. "She's gone, if that's what you're worried about."
"Oh–did you hear that?"
"Aye, your majesty." Gray said. Lock sighed.
"She wants me to paint the dining hall." Gray looked at him quizzically. "She says it's depressing. I'll grant it's not a cheery room, but…"
"I thought Lady Tiffany's thoughts on leaving it as was were quite sound." Gray said, neutrally.
"Me too. Did you find Tate?" Lock asked, peering past the scarlet curtains at the courtyard.
"Aye, he's–at my house–with Lady Kennedy, highness." Gray said, surprised at the tentativeness in his own voice.
"Oh, gods! Was–was he hurt, what happened?"
"If it's all the same to you, your majesty, for Tate's sake, perhaps we should speak of this in private. He looked at the wall shared with the library. There was a standing invitation to all of the Crestians that they could use the library at any time. It was both too early and too late for the visitors they usually got, but still.
A stricken look shot across Lock's face, but he turned and lead Gray to the study. Lock seated himself in the single chair on the other side of the desk and waved Gray into one of the chairs by the fireplace.
"Now, about Tate?" The king leaned forward a little, his blue eyes sparking a little with intensity.
"He was at his house when I got there, in the barn–in Dumpling's stall actually–when I got there. Although he was quite obviously distressed, he wouldn't tell me what was wrong." Gray, chewed on his lip for a second.
"That's not unlike Tate." Lock said, scrubbing his hand across his stubble.
"No." Gray agreed, if only he told people more, perhaps–but then again perhaps not. He couldn't know, not any more than he could know that if he'd said something that morning half a lifetime ago, what it would have changed. "But it was obvious something was wrong. I sent him to my house and went and got Lady Kennedy. She gave him something to calm him down a little."
"So did you find out what happened?" Lock was playing with the quill on his desk. A nervous habit that tended to get ink on him, his desk, and anything else on the desk, but Gray couldn't find it in himself to scold about it.
"Tate's been trying to court Lady Zahrah." Gray said.
"I know, Master Jarrett and Wesley have both commented on it." Lock looked thoughtful for a moment. "But Lady Fiona and Lady Jennica have both commented that she is much more interested in Alistair."
"Aye." Gray couldn't help snarling out the word. Lock's eyes narrowed and he abandoned the quill to lean back in his chair and steeple his fingers together. "Well, apparently ever since Lord Dolph's wedding, the two of them have been at odds over this."
"That long? And he never said anything?" Lock said.
"Think back to your first love affair, Lock." Gray snorted.
"If you mean that pathetic–thing I had with Lady Emma. I wouldn't call it a love affair." Lock laughed.
"Still, you were at the time, quite heartbroken that she didn't return your affections." Gray pointed out. Lock snorted. "Would your uncle have been your first choice of confidant?"
"Uncle Phillip?" Lock asked. Gray nodded. "Okay, no, I wouldn't have. So what did Alistair do about this?"
"His usual way of handling rivals." They had both known Alistair growing up. He had been a bully since the first time that Kennan had brought him to court when he was hardly old enough to lace his own breeches, and a cruel one. His pattern had always been one of escalation. At first just taunts or a bit of shoving, if that didn't work, he'd keep getting crueler, more ruthless. Lock was quiet for a minute then nodded.
"I'm guessing he tried that with Tate?" Lock said.
"Aye."
"And he's been sitting there suffering, right under our noses. Damn it." Lock exhaled a long sigh. "But there's more isn't there?"
"Oh–aye." Gray agreed. "Butterscotch recently had kittens, and I guess that Tate decided that he would give one of them to Lady Zahrah. And I guess that Alistair saw the two of them together."
"Go on."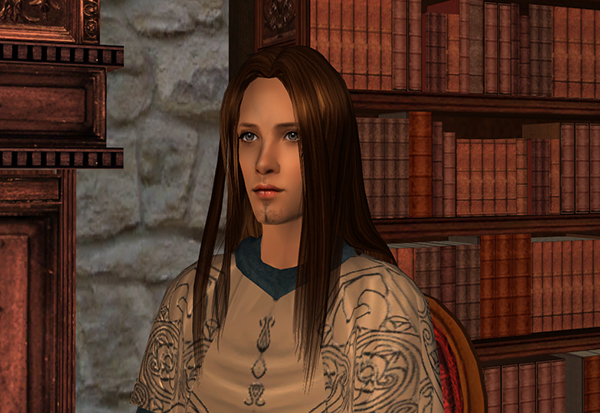 Gray stared at the carpets on the floor. Tate's dull, slightly slurred voice in his head, telling him of how he had been in the barn when Alistair had approached. How Alistair had told him that he wasn't an unreasonable man, that he would even offer Tate a compromise on the subject of Lady Zahrah.
Even with the sedative in him, Tate's voice had become near hysterical as he recounted what Alistair viewed as a compromise. Gray hadn't thought himself a completely unworldly sort of man, but apparently he was quite provincial compared to what Alistair had been doing.
"What sort of man offers–that?!" Lock asked, his voice a shocked mix of bewilderment and growing anger. "How–how can you even–say something like 'I'll let you get the girl if you'll–you'll–go to bed with me'?"
Oh, but it got worse. Not only had Alistair said it, he then proceeded to, in stark detail, voice just exactly what he'd do to Tate. Gray's stomach clenched and he half wondered if he'd be sick–and it hadn't even been said to him. Just repeated by a shell-shocked voice by the boy who'd actually had to live it.
All of this had been accompanied, Tate informed he and Lady Kennedy dully, by Alistair standing too close, touching his arm, his hair, his face. He told them how he'd tried to shove Alistair away, but the former noble had simply crowded him closer to the wall, trapping him.
"Gods." Lock hissed. "Is–is that all."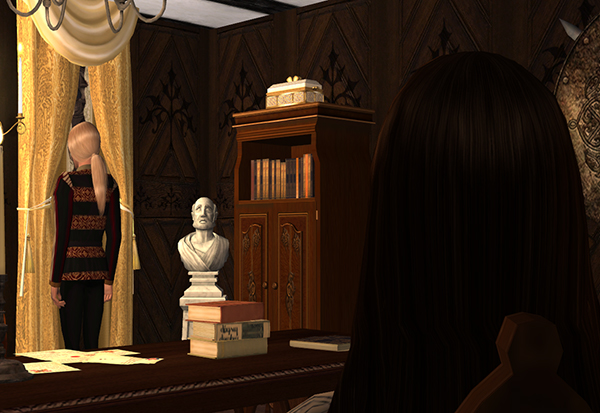 "That's all he said, Lock. And Lady Kennedy advised me against pushing it." Gray admitted. "But–given the way Tate got more hysterical, the longer he talked, somehow I doubt it." Lock nodded sharply before pushing up out of his chair.
Gray watched as the king drew his fist back and slammed it into the wall by the window.
"I'll kill him." The king said bowing his head "You don't–Gray–tell me honestly–do you think Alistair–raped him?"
"No. Lady Kennedy said the physical signs of a sexual assault weren't there. I'm not sure what signs would have been there–but she said you would have been able to tell if Alistair had–p-penetrated him. But, she did say that–he could have, with what was there, done just about everything short of–that." Gray said. "And–she said that he definitely–mind fucked Tate." Lock hissed a sob in between his teeth.
"How could all of those people die and he lived. Tell me, you're the priest, Gray, how the fuck could the gods let something like that happen. All of those good people, Gray, all of them dead and some disgusting thing like him live." Lock said.
"I don't think that's the Gods' jurisdiction. I don't think the Gods put numbers up on the tally board. We have our choices, Lock, and the Gods let us make them. Sometimes people make bad ones." Gray said after a long minute.
"How will I ever face Tate again? I failed him, Gray." Lock said. And what did you say to that?
"I think, Lock, if you could never face Tate again, it'd be worse for him. He–he would probably think he disgusted you." Gray said.
"He probably would, wouldn't he?" Lock sighed. "And he doesn't deserve that." The king was silent for a long moment. "Can I at least turn Alistair into a pig?"