The forest surrounding Shadowhaven was not really meant to be hiked, and certainly not in a wedding dress. Why she hadn't thought to grab something else to wear this morning she'd never know. And the fact that the forest seemed to be clawing and pawing, trying to drag her back, didn't help. Or maybe it was her regrets that were clawing at her, after all, the dress was seemingly untouched for as many snags as she seemed to have hit.
She'd never thought of herself as a coward. Her father would be so disappointed in her. He always told her to stand and face her fears. Although why she should care what he'd think… After what he did to her mother. But somehow twenty plus years of being daddy's little girl didn't go away just cause he'd done something inexcusable. And now as she had also done something inexcusable, hurt someone who deserved it no more than she'd deserved her father's betrayal, all because she was weak.
And to add insult to injury, she was hopelessly lost. Maybe Tiffany could wander around the woods and find the one thing that would make her the happiest, but Jolene didn't have that good a sense of direction. She was fine in cities. But cities had always had street signs and graffiti and identifiable buildings, forests… have trees.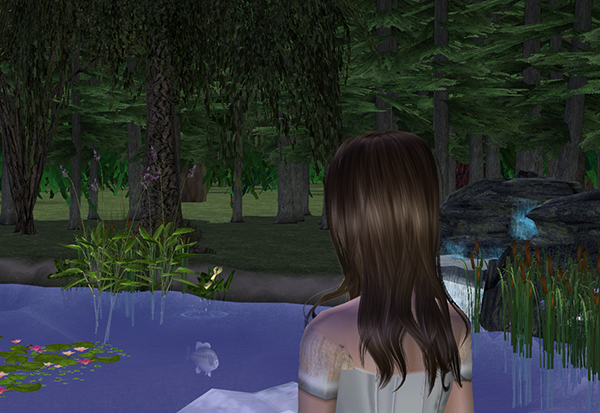 All she knew was that the thick underbrush was all but impassible, except the from the direction she'd just come from. And what the hell was she doing anyway? Where was she going to go? She knew very little about the countries surrounding Shadowcrest, and even less about living in the middle ages, outside of the weird amalgamate that was Shadowcrest. She flung herself down on a rock and stared at the still water of the pond in front of her.
"The road's back that way, if that's what you're looking for." Jolene jumped and stared. The voice wasn't familiar, no one that she knew. And at first she didn't even see anyone, then, out of the underbrush stepped a man. Definitely not a Shadowcrestian. His teeshirt was somewhat familiar as if she should know the reference from somewhere. And he wore jeans and battered cowboy boots.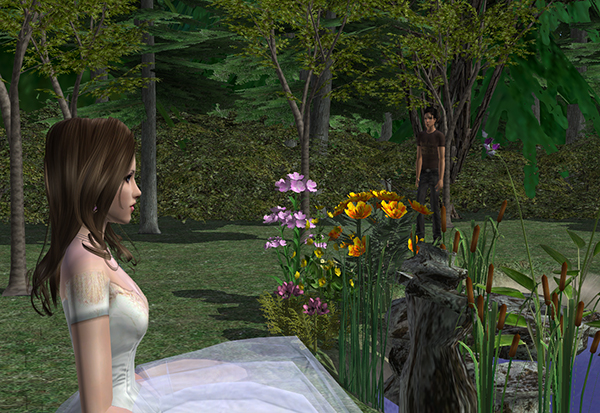 He looked–somehow–wrong in these woods, though maybe not quite as wrong as a woman in a gown straight out of the Phantom of the Opera, so it wasn't like she had room to talk.
"The road to where?" Jolene asked.
"Kinda depends on you." The man said with a shrug of shoulders that looked sort of how she imagined Sawyer's would in a few years. Used to hard work and muscled from it, but not large, not bulky. He sat on the rock next to hers.
"You sound like the Cheshire Cat." Jolene said.
"Just cause the person giving it is crazy doesn't mean the advice can't be sound." He shrugged again, turning odd slate-blue-green eyes on her. As their gazes locked, she felt oddly naked, not physically, but mentally, as if he were seeing straight into her thoughts. "It'll take you home."
"Pardon?" Jolene said glancing away from the man who rubbed his freckled nose.
"The road. It'll take you home." He said after a moment of silence had passed.
"And what if you don't know where home is anymore?"
"I bet you do, Jolene." She stared at him, though he didn't seem to notice. How did he know her name? Where was she? "If you'd just listen to yourself, you'd find you know." He reminded her of someone. It was an odd, tip of the tongue sensation. While outwardly there were things that reminded her of the man who was probably currently waiting for her to show up to their wedding, underneath there was–someone else. That calm voice with just a hint of a drawl tickled the back of her mind.
"How do you know my name?" She blurted when the corners of his lips curled up into a quarter smile that she would have sworn she'd seen on–oh who? And the quiet huff of a laugh, she could hear it overlapping a memory as he caught her eyes again.
"I could tell you that–and you would never believe it."
"Great. I fell and cracked my head open and am dying, aren't I?" The laugh was a bit more cynical this time.
"You aren't going to die today." He frowned slightly. "Or at least your heart will still be beating in a day, a week, a month from now." This was getting weirder by the moment.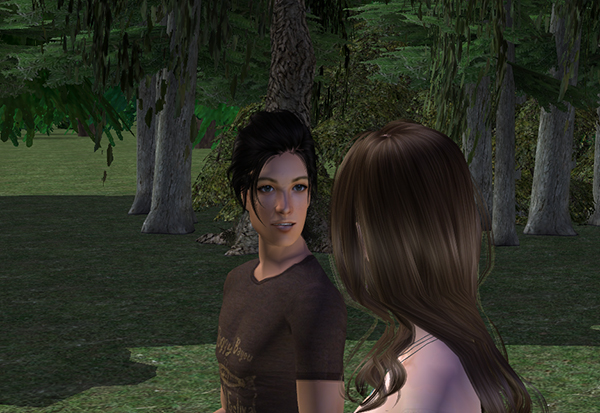 "I don't know whether to be more weirded out by your psychic routine or the fact that you make it sound like I will die today."
"You're at a crossroads, Jolene. I can't tell you that if you make the right choice you'll live happily ever after. The future is way too changing to pin it down. So the right choice won't get you happily ever after, but the wrong choice, well…" He glanced away.
"It'll mean that I'll die like Scrooge?" Jolene couldn't keep the sneer out of her voice. He chuckled, that maddeningly familiar laugh taunting her.
"No. I can't even say that. Pinning down happiness is sort of like pinning down the wind. It's difficult. Not impossible, but difficult. It'll be harder to be happy."
"So if I marry Sawyer, I'll be happy?" She rolled her eyes.
"That also depends on you. You should know by now that happily ever after is a cheap lie. Even if you could get it, you wouldn't want it. If you don't work for it, it'll never be enough for you. You can be happy if you don't marry Sawyer, you can be happy if you do. You will regret not marrying Sawyer in a way that you won't regret marrying him if that's what you choose. You do have a choice, Jolene. You've just got to figure out what road you want to take." The man scrubbed hands through his hair and looked up at the sky.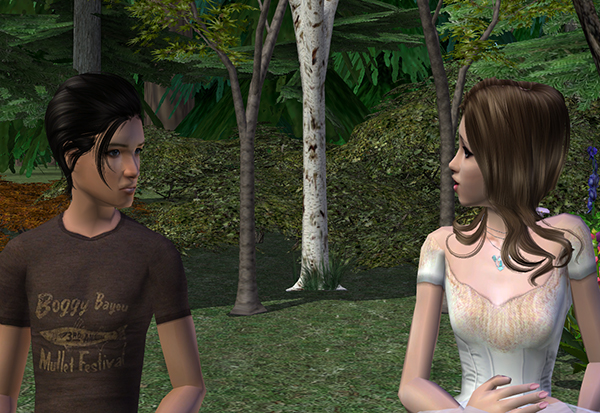 Then he turned and locked eyes with her again. His pupils seemed to expand, the tiny flecks of almost-silver in his irises flashing. Just for a second she thought she could see–she shook her head and blinked. His eyes were just eyes again. Sparkling, mischievous and yet sad, terribly sad.
He stood up and stretched. "It's time for me to be movin' on." He started off the direction she'd come from.
"Wait, that's it?" Jolene asked, scowling. "C'mon, even Dickens' ghosts were less cheap than that."
"You know what you want to do, Jolene. I don't need to tell you that. If telling you something were gonna solve this, you'd have been settled right and tight six months ago." The man chuckled. "I think what you needed is just encouragement to listen to yourself."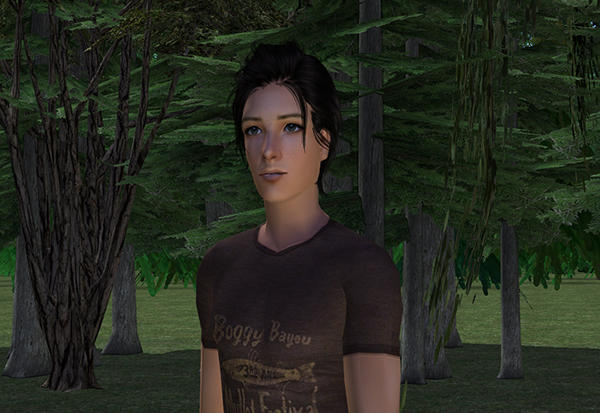 "And you got stuck with the job?" Jolene snorted.
"More like I volunteered for it."
"Why?" Her eyebrow shot toward her hairline as she said it.
"Indirectly, this involves someone who is very important to me. If I can pass along some sense to you, maybe down the road you can pass it along to them." He shrugged, a rueful gesture, tantalizingly familiar in selfeffacing sort of way. "Ma'am." He grabbed the brim of a hat that wasn't there and nodded before turning and walking off in the direction she'd come from.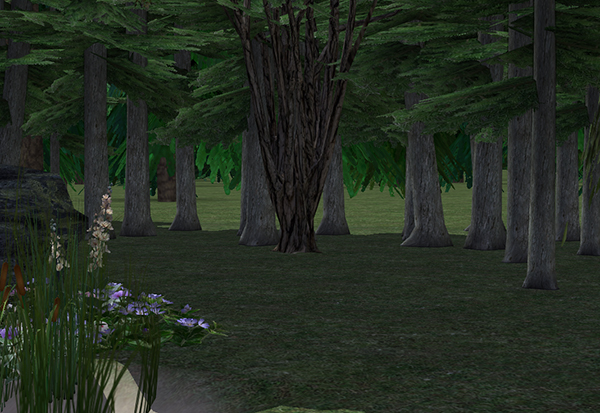 In the time it took her heart to beat three slow times, she was alone in the clearing though it had certainly taken her longer to make it through the trees than that.
Jolene looked over in the direction the man had said the road was in, and then back at the now empty clearing with no sign anyone but her had been in it–well–ever. When you don't know where you're going any road will get you there, the cat had said.
—
Jarrett sighed wishing there was something he could say to the young man who had by now had to have figured out that his bride wasn't coming.
"I should have known–but–I thought…" Sawyer sighed.
"Aye." Jarrett nodded.
"Well, I suppose I should…" Sawyer shifted in his seat.
"You don't have to." Jarrett told him. But he would, just like Jarrett would have. That was what they both did, picked themselves up out of the dirt and went along, regardless. The sound of shoes hitting the porch boards at a run startled them both and they turned to peer at the door.
"She's coming!" Tate exclaimed hard on the heels of bursting through the door. Sawyer's face was awash in conflicting emotions. "His Majesty says to tell you that she says that she's sorry she kept us waiting, but if you still wanna do this. She will."
—
"I'm sorry I kept you waiting." Jolene said as she stopped under the rose arbor.
"It's alright." He shrugged.
"I needed a little help finding the right road." Her eyes scanned over the wedding guests with a peculiar intensity that he could only wonder at. But then Gray was taking his place and such mundane thoughts fled. Call him a romantic, but her hold his hands in hers somehow seemed to say that they would find their way to right better than any words a silver tongue could put together.
—
Adult Content warning! This scene chunk contains adult material. You were warned!
He hesitated outside the bedroom door, slowly turning the knob before releasing it only to grip and turn it again. Somehow this was–harder–than he had daydreamed this would be. Although, wasn't that always the way it went. "You can come in, Sawyer." her voice called though it lacked it's usual tone of certainty. She was laying on the bed in a white shift certainly not made to impress anyone.
"Sorry." He rounded the other side of the bed and sat down gingerly, though he'd been sleeping in this bed in this room for weeks now. He already knew the lumps in the mattress.
"I should be the one apologizing." Jolene said. The light glinting off the ring on her left hand. "I've put you through a lot and now I'm asking you to be patient while I put you through more." He was pretty sure, given the shift she was wearing, at least part of what she meant by that.
"I understand." He murmured towards his hands.
"I–I know it's selfish." She began then held up a hand as he started to protest. "But I just can't–we can't–I can't."
"At least you didn't banish me to the couch. That's what Livvie says she used to do with her ex-husband." Jolene smiled at that. But it faded almost before it had finished blooming.
"I'm sorry." She whispered again. He leaned over and started to blow the candles on the nightstand out. "Wait, Sawyer." He turned to look at her.
"I can't–but it's–it's our wedding night." Sawyer shrugged with a nonchalance that he certainly didn't feel.
"I'm just glad you married me." She brushed the hair from his face with one hand.
"Liar." She said with a snicker. "Well, maybe there is something I can do." Her hand brushed over his shoulder and across his chest, opening his pajama top and sliding it to one side before pulling the other side off his shoulder. He sat up slightly, tossing the cloth off to one side at her gesture.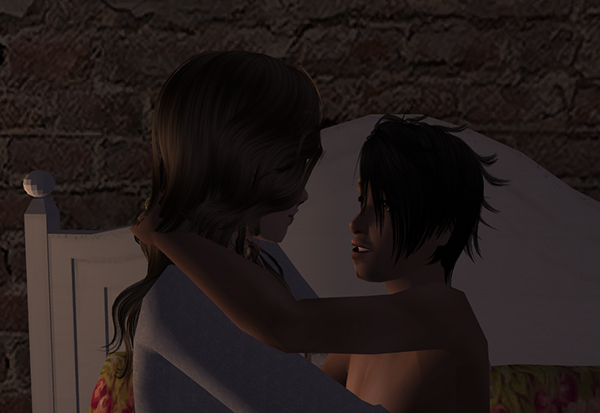 She made a noise in the back of her throat and pressed her lips to his neck right over his pulse, which started raising as she nipped gently and her hand slid down his chest, to the drawstring on his sleep trews. Even without looking at the knot, she made short work of it and then her hand slid down further. Feather light touches on his hips and belly had him hard before the first finger touched him.
"Take your pants off." She murmured in his hair, leaving him the task of trying to manage that without sitting up because her lips were still busy at his neck and the hollow of his collar bone. Though admittedly it was the light touch of her hand, much lower on his body, that was the hardest to work around. He got them kicked off though where they fell was anyone's guess.
"Jo–" He began.
"Hush, sweetheart, or I'll lose my nerve entirely." She said before kissing him. A hard, wet deep thing unlike anything she'd ever done before, almost distracting him from her free hand–almost, until it wrapped around him. He gasped into her mouth and she nipped at his lower lip, which didn't–couldn't entirely distract him.
And then in that usual timeless rush, it was over. Him gasping for breath, eyes wide, watching his wife who shrugged ruefully.
"Good night, Sawyer." She said shifting herself under the covers. He slid under them himself after fishing his trews off the footboard. "I wish you didn't have to give me the time, but thanks." He just nodded and wrapped his arms around his wife. They'd figure it out.