If Jarrett had to lay money one way or the other, the only person in the room of two minds on the event that had called them all here was probably him. Lady Kennedy might still have been of two minds on the subject, but she wasn't in the room. And she was apparently okay enough that she'd sent the king back down to the Great Hall.
Raquel had gone into labor earlier that morning and they'd all congregated in the Great Hall to await the arrival of the first born Crestian since the plague. There was a part of Jarrett that joined the others in their joyfulness, their hopefulness for the future. This event, more than anything, signified that the plague was behind them. Their desperate scramble to breathe life back into Shadowcrest had worked.
A baby was being born and that child was theirs. He or she would be a Crestian. It was oddly like the coronation that Lachlan had never had.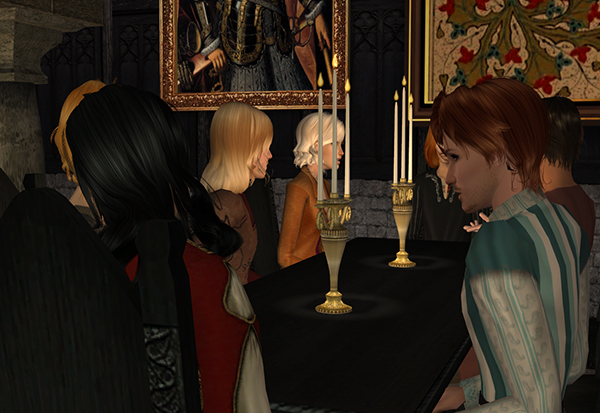 At the same point, Jarrett had never felt so old as he did now. He was alone in having been where Blake was now, staring at the ceiling, drumming his fingers on the table. Worried for his wife, worried for his baby, waiting and waiting. But all of the good feelings that were tied up in those memories were unfortunately also harnessed to the waiting and waiting of a more modern–and infinitely sadder–vintage.
Of staring at the ceiling and wondering if this would be the last night he would have his Rosie-girl, his little Frankie.
"Something wrong?" Nessa asked, leaning toward him and talking in a low voice that nearly blended into the buzz of conversation around them.
"Hmm? No." Jarrett said glancing at her.
"Liar." Though there was no venom in it, only a bit of–he hoped–fondness, she smiled at Lady Phoebe who was talking about something to do with some of her jewelery designs. She wrinkled her nose and winked at him before asking Fox a question.
"Does–does it usually take this long?" Blake asked, nervously twisting his wedding ring around his fingers. Eyes shot to Jarrett as if, because he had been a father, he ought to know. Or maybe it was just that he was older, or that he'd played midwives to calves, horses, baby piglets.
"My mother never failed to remind me that she was in labor with me for thirty-six hours." Nessa laughed. "Thirty-six hours and twenty-minutes and fifty-seven seconds or something like that. The minutes and seconds tended to grow the more irritated she was with me." Jarrett shot her a grateful look and she pressed her hand reassuringly against his.
"So have you thought about what you'll name the baby?" Lady Phoebe asked Blake.
"We've narrowed it down. I had originally thought that we might name the baby after Raquel's parents. But–she said she'd rather we didn't."
"What about your parents?" Ren asked. "Or your brothers or sisters, isn't there that old legend that when people–,"
"Die?" Mistress Peyton asked. "It's just a word, and everything does it. Only two certainties in life, death and taxes." Ren laughed.
"Does that count?" Blake looked down the table at Fox. "I thought that it was only for…" He trailed off, eyes skipping toward Jarrett.
"I don't know." Fox said, stroking his chin thoughtfully.
"What is this?" Lady Phoebe asked.
"There is an old legend or wives tale or something. That when a child dies young, it may be reborn later to the same family." Fox said. Jarrett felt his breath his in between his teeth, but no one else seemed to notice it, except a moment later a strong work callused hand gripped his just briefly a second time under the table. Nessa caught his eye and held it for a moment. He nodded once and she flashed something like a smile.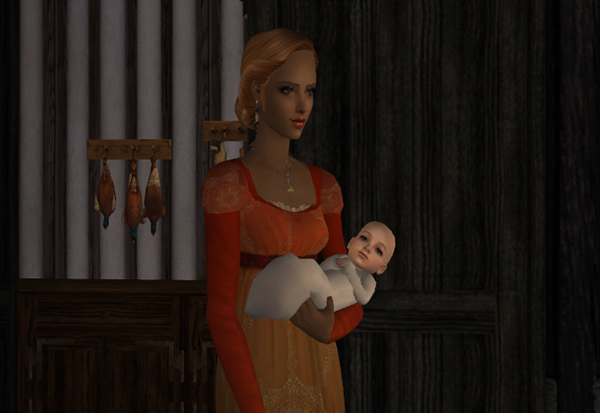 A wave of silence started as the door opened and Lady Kennedy stepped through. It moved slowly toward their end of the great hall, conversations dropping off. All eyes on the white linen bundle in her arms, Jarrett's included.
Blake almost knocked his chair over scrambling to his feet as he realized what that bundle was. He looked terrified.
"I have someone to introduce to you, Master Blake." Lady Kennedy said as she handed the baby to Blake. He took the baby gingerly, as if his fingers were clumsy and stiff and the child were spun glass.
"Did–did Raquel choose a name, Lady Kennedy?" Blake asked stroking the infant's soft cheek, the soft coo seeming to echo from the rafters. "What–er–what is it?"
"A baby?" Lady Kennedy suggested sardonically.
"Of course, I mean–I know that–it's uh–just." Blake stammered.
"Kennedy, be nice, how'd you like it if someone handed you your first child with a it's a baby?" Lady Tiffany said from the next table.
"I should hope that I wouldn't ask that silly of a question–and if I did, I would have just been giving birth and would be excused." Lady Kennedy said, turning back to the father. "Hope." Jarrett blinked right along with Blake.
"Pardon?" Ren asked.
"Her name is Hope." Kennedy said. "If that's still too subtle for you, it's a girl." Blake looked at Hope for a long moment, then up at Kennedy, tears welling in his dark eyes.
"That's rather–apt, isn't it?" He asked. "Hope?" Lady Kennedy smiled, one that was surprisingly free of cynicism.
"Congratulations, Blake!" Ren said, thumping the young man on a shoulder–but with care for the baby in his arms. "She's got your eyes."
"Aye." Blake said wonderingly.
"Now we just hope she doesn't get his beard." Mistress Peyton said with a laugh. Ren shot a dark look at his wife that just caused her to laugh harder.
"Raquel's okay?" Blake asked suddenly, the tan draining out of his face.
"She's fine, came through it like a pro." Lady Kennedy said. "Will, I'm sure, be up long before I want her out of bed." Blake smiled gratefully.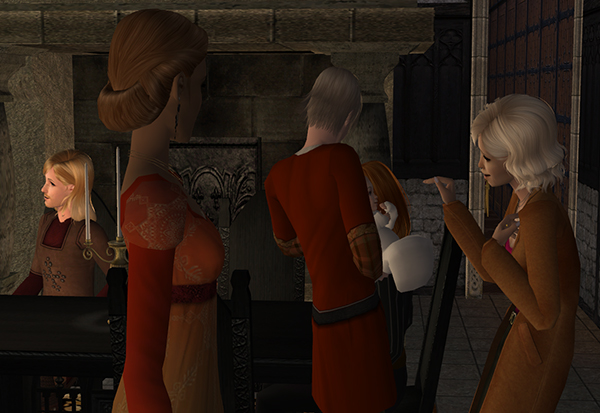 "So this is your uncle Ren." Blake held the baby out to the blacksmith who seemed even more uncertain holding Hope than Blake had. "And your aunt Peyton." Peyton waved at the little girl.
As the others gathered around the baby, Jarrett noticed a flash of red-gold moving away from the crowd. Nessa…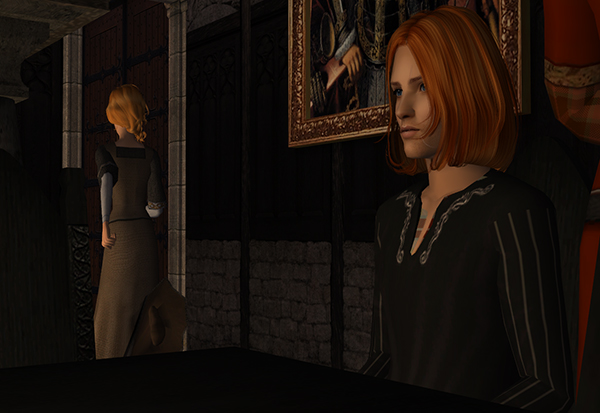 He slipped out of his chair and followed the flag of her bright hair through the mostly dark throne room and into the library. It would have been impossible to miss Nessa's drawn in breath, the shaky exhale clear as it ricocheted off the panel walls.
"Nessa?" He asked, only then realizing that maybe the reason she had left was because she wanted to be alone. She turned back toward him, something on her face that he couldn't read. The veterinarian shrugged, a faint lift of the lips as an excuse for a smile.
"It's been a long day?" Jarrett offered. Nessa stared at him for a moment, then nodded in agreement, her eyes looking more lost than he'd ever seen them. "I bet Blake wouldn't mind if we called it an early night."
"Yeah, yeah." Nessa's voice was wooden and she fell silently into step behind him, seeming to almost use him as a shield as they entered the Great Hall.
"She's a baby, not a priceless antique, as long as the words 'go long' do not enter the conversation she'll be fine." Mistress Peyton was saying as they edged into the room.
Nessa stopped and murmured something at Blake and at Olivia, so by the time that they arrived at the door out, it was pretty apparent they were heading off for the night. The king stood in their path but after a look at Nessa simply offered her a hug and accepted her murmured apology.
"You think they'll forgive us for skipping out?" Nessa murmured, the chill air thick with the smell of autumn leaves.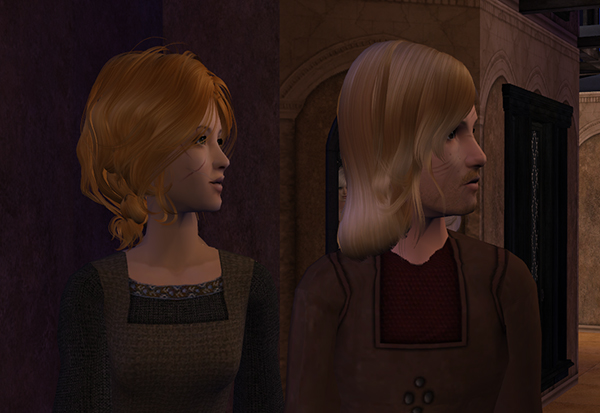 "If they really notice we're gone, probably." Jarrett said.
"Hope, it really is kind of an apt name, isn't it?" Nessa offered as they walked past the windows, Mistress Peyton holding baby Hope and talking with Lady Heidi and Lady Fiona.
"Names have a way of being surprisingly apt sometimes. We–we named my daughter Rosie–she–had auburn hair–but she grew up to be a lot like a rose." He offered.
"Yeah, I think about it, sometimes, what I might name my children–if–if I ever have the chance to have any." Nessa sighed again and hugged her arms to her chest.
"Oh?" He asked, wondering if that was prying or encouraging.
"Kian–definitely–if I ever had a boy." She smiled sadly.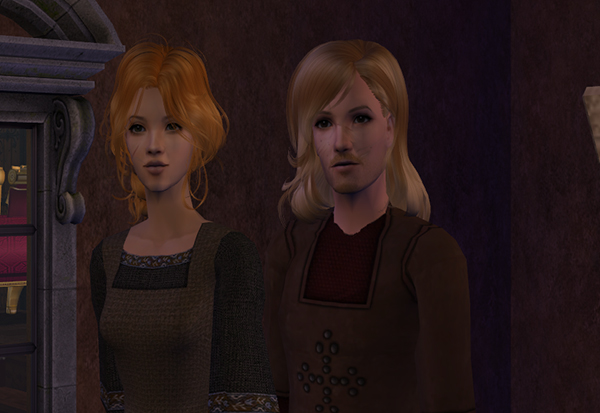 "Kian?" Jarrett asked, then regretted it as her face fell.
"Someone–very important to me was named that. He was my–best friend doesn't even cover it. I used to call him my guardian angel. Cause he was, he was always there for me. I didn't even have to say anything. No matter how fucked up Mitch left me, he'd be there with a pack of beers and a bag of Ol' Red's pork rinds. Just like magic. I think–of everything I regret–the fact that I couldn't save him like he saved me–is my biggest one." She said shivering a little as the breeze picked up and moaned through the trees. "I never even got to tell him how much he meant to me."
"I–dunno about where you're from–but they always told me that they know–the people you love like that–they know."