The idea was there, the perfect one, the one that would put to music everything he was feeling, it was like there was a miniature sun inside his breast, the light flowing through him in his very blood and bones. And somehow he had to bring all of that out and give voice to it.
But so far he had all of squat, which was why he was sitting on his bed in the little curtained off alcove thinking instead of out there proclaiming his love for all the world to see. Nothing seemed to be working, none of it. He'd used every trick both fair and foul that he knew of to tell her how he felt and she just looked at him with those blue eyes turning his knees the consistency of gruel, and laughed, or snorted, or raised one of those elegant brown eyebrows into that adorable arch.
Sawyer would never again mock the concept of unrequited love. Apparently, it wasn't just that the would-be lover wasn't smooth enough or suave enough or didn't know the right tricks, sometimes the center of your universe was just stubbornly obnoxious and called you a kid. A kid. If Sawyer hadn't loved Jolene so much that would have… Oh! He flopped back onto the bed, barely feeling the straw poke him in the back through the thick blanket.
This called for action, this called for decisiveness, this called for… putting a shirt on. The new barn was mostly free of drafts, and putting the old tapestry up over the window as Lady Tiffany had suggested, killed those that were still left, however, that didn't make it snug and warm. The building was, after all, still a barn. It was large, allowing for space for the animals and there was only a single fireplace inside.
There was a second, outside, that they cooked on, and which added warmth by heating the stone wall it was built into, but the building was too big to be sufficiently heated by only those two fires.
The barn had been the last project before winter, Jarrett wanted some place that he could bring the livestock during the depressingly frequent snowstorms. Both Lady Kennedy and Lady Tiffany had protested. They pointed out that Jarrett was putting the welfare of his stock in front of himself. (To which Lady Peyton had murmured 'no fucking duh.', which apparently made sense… to someone else at least.) So they had compromised. The barn was built with a loft big enough to house Jarrett, Sawyer and Alistair for the winter.
That got them out of the pavilions that Lady Kennedy had so protested them wintering in. Sawyer didn't see why, they were actually snugger and more cozy than some of the buildings he'd wintered in. But one just did not argue with Lady Kennedy. You might talk Lady Tiffany around. Lady Peyton was stubborn, sometimes, but mostly just over wearing skirts and the length of her hair. Lady Heidi didn't seem to voice much of an opinion on anything. (Other than she said he was adorable in the tone of a child with a puppy.) Lady Raquel really actually wasn't all that difficult, at least she didn't have the same stubborn willfulness as many of the other ladies.
Lady Jolene – he found himself sighing as he thought of her curls and her smile – Lady Jolene was only particularly stubborn when it concerned him. But, really, you could talk to the city walls, asking them to move, and be guaranteed of more luck than Lady Kennedy when she'd settled into a belief. And as she had appointed herself guardian of health in Shadowcrest, they were not going to get her to move a smidge.
All the more reason not to sit around without a shirt on, really. When he left his little curtained alcove, he saw Jarrett was sitting staring into the flames at the fireplace, his dark, dark eyes lost in some other time or place.
"Jarret, you, you all right?" Sawyer found himself asking. Cursing himself for being a sluggabed, if he'd known that Alistair was nowhere to be found, he'd have gotten up earlier. But of course you couldn't depend on a nobleman to be around when you needed one, that would like expecting a guard to be around when someone was being robbed.
"Aye, jist cold. Been out a feeding an' forgot to take me heavy cloak. Got cold out there." The old butcher shrugged his broad shoulders, the leather of his tunic creaking.
"Aye, does that, tis winter." Sawyer offered with a smile that faded as soon as Jarrett turned back to the fire. He was not alright, he wasn't in spittin' distance of alright. Sawyer just didn't know how to fix it, maybe you couldn't.
"Ah, well." Jarret said, holding his big hands out to the heat. Sawyer nodded, before grabbing his shirt and tunic out of the cupboard. It took most of the afternoon, broken up by helping bring in the animals and the dozen other chores that winter falling hadn't obliterated before Sawyer had his plan for what to do. At least about Lady Jolene. He still hadn't a clue how to bring life back to Jarrett's eyes. Maybe you couldn't.
"Where are you off to?" Jarrett asked as Sawyer tromped down the stairs, it was still amazing that they didn't creak, even though the boards were not new, they didn't creak when you walked down them. Lady Tiffany was nearly as much a wizard as King Lachlan was. All the things he'd taken for granted about buildings, she'd managed to negate or so nearly as their existence to be negligible.
"Gonna go visit Lady Jolene."
"Lad." Jarrett began then obviously reined in his tongue. "You do know it's snowing out there?"
"Tis always snowing, tis winter. Besides as Lady Tiffany says, faint hearts never won fair ladies." Sawyer brought his chin up stubbornly.
"Aye, so she said. Sarcastically, I might add." The old butcher shook his head.
"No, it's true. What does it say about me that I would let a little thing like some snow stop me from courting my lady?"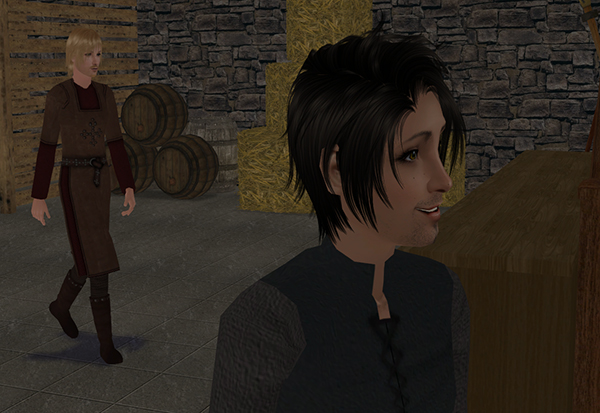 "That you're sensible?" Jarrett suggested.
"Are you gonna need me to help with the sheep?" Sawyer ignored the sensible. Love wasn't sensible that was the whole point. But he wouldn't go if he was needed here. Jarrett considered it for a moment then shook his head.
"Nah, go be young, lad, just don't freeze out there, I've buried enough this year." Jarrett said. Sawyer nodded and headed out the door.
"That lad is gonna get himself killed. If the weather don't, then the being stupid will." He shook his grizzled head.
Sawyer started the second verse, losing himself in the music, his fingers were a bit chilled and he worried about what this was doing to his fiddle, when the door cracked open. He heard a familiar exasperated sigh. The first sign of life from inside the barn other than the smoke from the chimney he'd seen since he got here.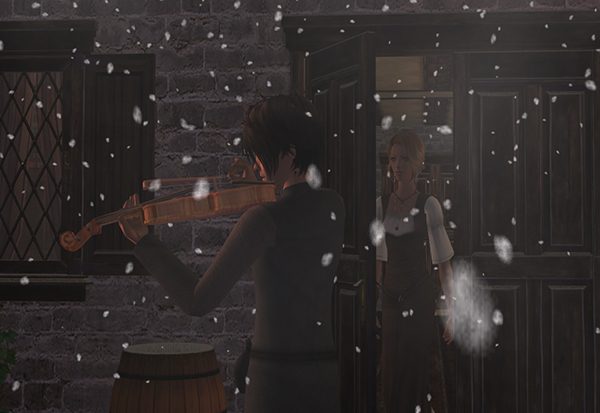 "What, in the name of all that is right and good are you doing?" Lady Kennedy asked, exasperation coloring her voice.
"P-playing…" His teeth started chattering and a shiver started up his spine. Maybe this hadn't been such a good idea, but, didn't women like it when you showed manly contempt for your own sake in favor of theirs?
"Well, go home." Kennedy said, shaking her head. "Before you freeze. It's snowing!"
"My-my lady."
"Too late. Get in here, get warm and dry and then go home. You idiot." Kennedy said, although he thought he heard the faintest touch of affection in her voice when she said the last word, but all he saw when he glanced at her was her pretty, tanned face with a stern expression carved into it.
She shoved him toward the fireplace. It drew him, he was shamed to say, slightly more than lady Jolene who was sitting in the chair by the door.
You hardly would have guessed that this had once been a barn. The furniture and wall-hangings had turned the bleak room into a warm cozy cottage, brightly splashed with the warm tones that Lady Kennedy favored.
"Your clothes are soaked through, Sawyer, how did you survive this long?" Kennedy said from where she was filling a tea kettle with water. "Obviously luck." She answered her own question.
"Raquel, take Sawyer up, between you and Peyton you should have something he could wear."
"My lady, surely." Sawyer fell silent when he saw the expression on the face of the doctor and could only follow meekly after the girl. He hadn't been upstairs since, really, the last of the furniture had been carted up. Lady Raquel gestured at the screened off portion of the loft.
"You really are an idiot, Sawyer." Lady Raquel said. "There's a blizzard out there!"
"It's just a little snow, my lady." Sawyer shook his head.
"You know, it's stuff like this that just proves to Jolene that you really are just a kid." Raquel tossed some clothing over the screen at him.
"Huh?"
"It's not very mature or sensible, romantic, maybe, sorta, but I have to say I would be so mad at Blake if he took it in his head to walk here in a blizzard just to play me love songs. I certainly would not be impressed. It shows you still have some growing up to do. I think if Jolene wants something in a man, it's going to be proof that he's not going to do something utterly stupid that's likely to get himself killed, leaving her widowed and possibly with kids somewhere down the line. Did you ever think of that?" Raquel said as he tried to figure out how to put on the clothing that she'd tossed him.
"I suppose I hadn't thought of that."
"Well, try in the future, you're not gonna win her over by doing stupid shit." Raquel giggled as he came out.
"What?"
"Your barn door is open." She said. Sawyer looked at him puzzled. "On the jeans, grab the little metal tab thing and pull it up. You're about two seconds away from flashing me. Which I am sure that my fiancé would not approve of." Sawyer fumbled for a moment, covering his blush by looking around the loft. All of the beds and the wall behind them had been individualized. That one, he thought, looking at the pink floral spread, has to be Lady Jolene's.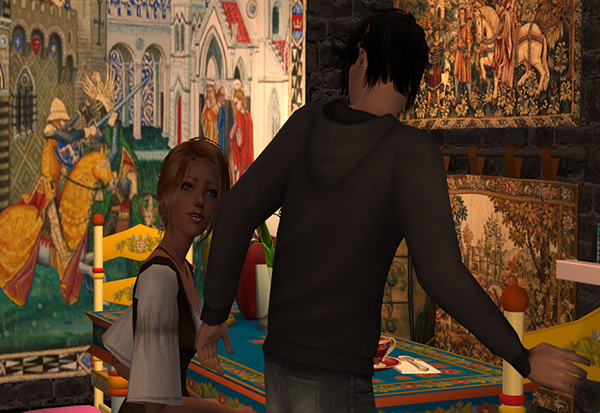 Lady Raquel left him standing there for a moment looking at the bed, and he had to scramble to catch up. Lady Kennedy pushed a chair at the dining table out with her foot and patted the table beside a cup of steaming liquid. Sawyer took the seat and she looked up at him.
"Sawyer," She paused and sighed. "I know it's been drilled into your head since the crib that women are impressed by men being manly men. But really, it's not that impressive."
"So Raquel told me." Sawyer admitted into the cup of tea.
"Promise me, no matter how loud your heart – or hormones – are screaming at you, my boy, that you will not do this again." Lady Kennedy said. Sawyer looked at her. "If you won't promise me, I'll have Jarrett lock you in the barn every time the snow starts to fall."
"I promise, Lady Kennedy." He said to his hands. This was so confusing.
"Thank you, now, I'm sending this home with you. Drink it, at every meal, for the next three days. And if you start to cough or feel achy, take this." She handed him a pouch of herbs and a bottle. "I do not need you to die of pneumonia." Lady Kennedy said. Sawyer nodded.
"Now get home, before you scared Jarrett. He doesn't deserve it." She shooed him like someone might shoo geese. "Men." She said, causing the other women to laugh. The warm sound of their laughter, even at his expense, carried him home better than the lingering heat of the fire.