Tate stepped nervously into the parlor. Not so very long ago it had just been that, a parlor. One he occasionally helped dust when Master Gray was busy. Now it was, more or less, the counsel chamber. All of the big decisions made about the future of Shadowcrest were made in this room, with the same desk chair that had been here as long as he could remember coming, serving as a throne for his king. That somehow didn't seem right, thrones were supposed to be impressive, special. Only kings were supposed to have sat in the throne. Tate himself had sat in that chair himself, and more than once.
"My-Your Majesty, your guests are here." Lord Lock sighed softly as if to himself. King, King Lachlan, Tate reminded himself sharply, even though he'd likely forget again in just a moment.
"Show them in, Tate, please." Tate bowed and stepped out of the room to fetch the two men.
"What, Lock?" Tate heard Sir Wesley asked. "You look like swallowed vinegar when you were expecting wine."
"I didn't used to scare him." Lord Lock said.
"Scare who, my lord?" Master Gray asked, sounding puzzled.
"Tate." He could hear the murmurs from the parlor indicating that the conversation was continuing, but he could no longer pick out individual words, and that was probably all for the better, he didn't need to eavesdrop.
"If you'll follow me, my lords?" The king, along with a proper throne, should have a proper herald or at least a page. Not a peasant boy with dirt from the garden under his fingernails. Someone with the manners that these men no doubt expected. Nevermind if Sir Camden was little older than Tate was.
Even though it was only half a dozen steps from the door to the parlor, Tate proceeded them and held the door open for them. "Sir Camden and Lord-Judge Dolph, my-Your Majesty." Tate said, sort of unnecessarily, none of the men in the room were blind, but that was what formality seemed to be about. Doing unnecessary things for the reason of because somebody, once upon a time, had decided it should be so.
Sir Camden entered first, dropping to one knee, his mail jingling as he did so. Lord Lock nodded formally to the young knight. Then Lord Dolph, who bowed deeply before taking his seat in the chairs that Tate had pilfered from the kitchen and set in front of the fire. Tate's duties done, he started to slip out of the room, leaving the king and his lords to their discussion when Lord Lock's deep voice stopped him.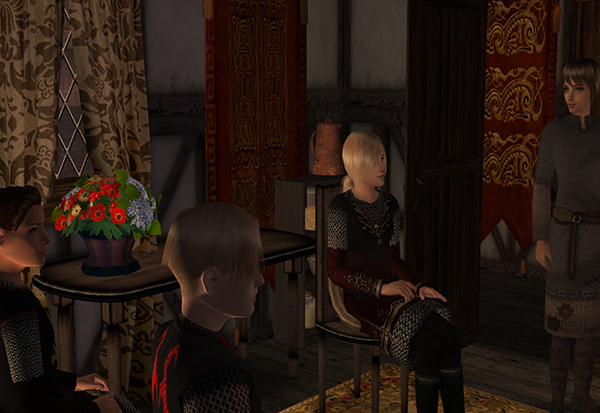 "Tate, please, stay."
"My-Your Majesty?" Tate asked in alarm, looking around the room.
Lord Lock started to say something then shook his head. "Tate, stay."
"Aye, my-Your Majesty." There were no more seats open and truthfully no room for another chair so Tate simply took up residence on the floor and listened.The first order of business was apparently just a general state of the country. Which then switched over to the arrival of Lady Kennedy, about a week prior.
Tate liked the doctor, she was funny in rather dry way and she scared Sir Wesley terribly. That was amusing all on it's own. Sir Wesley was a knight and a brave one. Tate had seen him stand up to hulking brutes twice Lady Kennedy's size and never even blink, but Lady Kennedy always seemed to know just how to poke holes in Sir Wesley.
"I think, my lords, that it is time for a second summoning." Lord Lock told his assembled nobles and Tate.
"Are you certain, Majesty? The last summoning tired you terribly." Master Gray said in that deferential but still firm voice.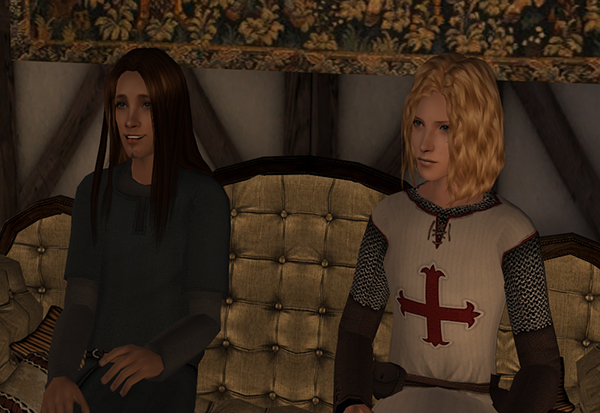 "Aye, I'm fine, Nanny Gray." Tate had to hide a smile.
"Your majesty." Master Gray protested.
"It has been a week, Gray. And I am perfectly recovered." Lord Lock told Master Gray with a shake of his head. Master Gray apparently gave up for he said nothing further. "My inquiry though would be what does Shadowcrest need most?" The lords looked around as if hoping that someone else might have an idea. Tate cleared his throat, the sound barely audible over the crackle of the fire.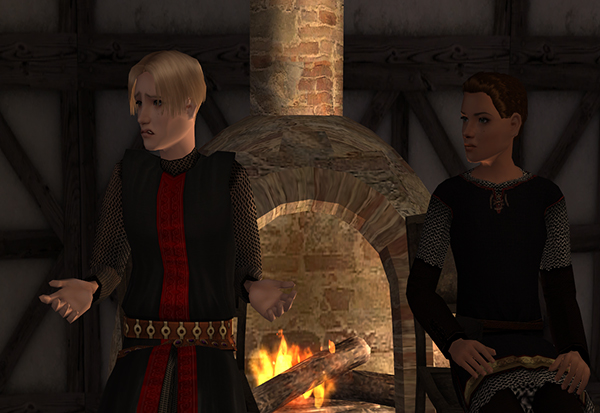 "Aye, Tate?" Lord Lock asked as the lords looked at him, perhaps having forgotten that he was even present.
"You said, my-your majesty, that one of the ladies-did something with buildings?" Tate asked, even more uncertain with all those eyes upon him.
"Aye."
"Might, as we've not had lots of luck with the rebuilding of Shadowhaven so far, my lord, might she be of use?" Tate stared at his hands, twisted on his lap. Lord Lock said nothing and Tate cringed further in on himself. Never say anything, that's not why he asked you to stay, dummy.
"Very good, Tate." Lord Lock said then. "That is a very good idea, thank you."
"You are-you are welcome, my-your majesty." Tate said. The lords then finished their discussion and Tate jumped to his feet to get the door almost as soon as Lord Lock deemed the meeting over.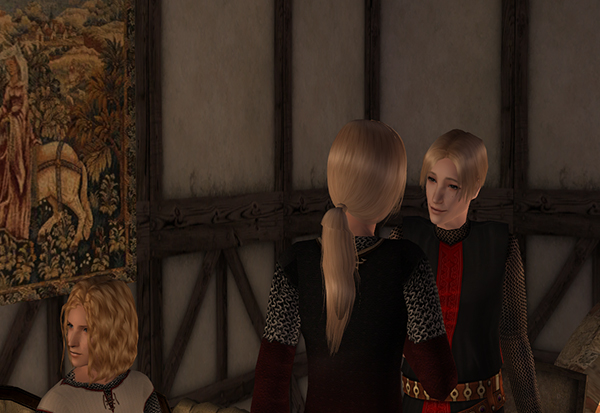 After he had seen Lord Dolph and Sir Camden out, he entered the parlor to bank the fire and put the chairs away, expecting to find it empty. But Lord Lock stood by the window, looking out into the twilight.
"My-Your majesty, I'm sorry for disturbing you." Tate said when Lord Lock looked over at him after he squeaked.
"You know, Tate, we're all kind of new at this. Don't beat yourself up over the fact that you're still getting used to it." The king patted his shoulder before heading over to his study, leaving Tate to gape after him.
***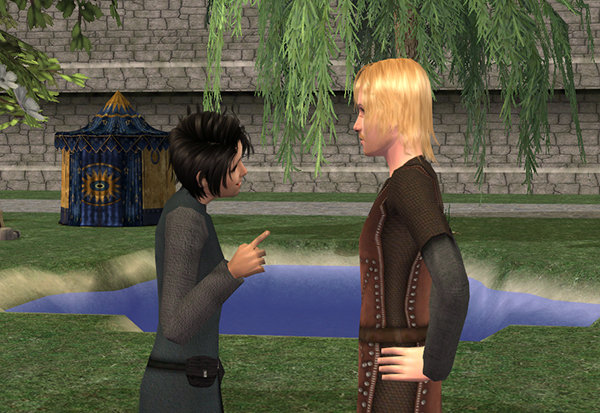 "It'll be fine, Sawyer." Jarrett sighed, in his quiet voice. "T'ain't no reason to take the time to walk 'crossed town during the busy season."
"But it ain't fine, Jarrett.  It's been hurtin' you since early week an' it still ain't stopped." The young man countered. The former butcher shook his blonde hair.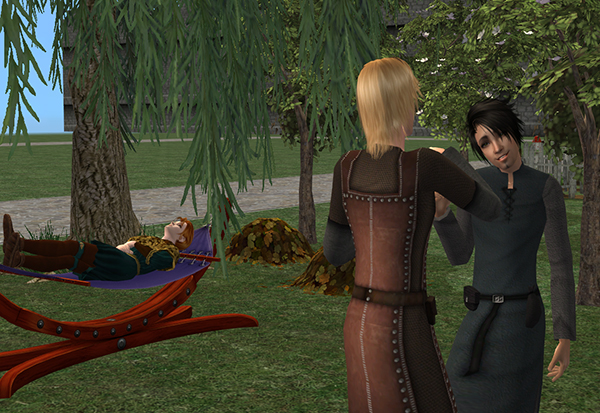 "We've got too much to do. And somebody ain't helping any." Jarrett murmured, neither of them bothering to glance over at the man stretched out on the hammock under the tree. The young nobleman paid them about as much mind as he did the squirrels chittering in the tree above him.
"You heard what the lady doctor said, she said when things start hurtin' ye, to come see her right away."
"She's probably jist looking for money." Jarrett said. Sawyer scoffed massaging an ache in his left palm.
"She ain't charging nothing! Tate and I went over to help Master Blake move in a table for her, an there she was looking over Master Ren's knee, an' she sent him on her way without any word of a bill, you know merchants, Jarrett, they's very good at wiggling them fingers for the glim."
"Well, then she ain't probably a very good doctor." Jarrett had enough stubborn some days for two plus ten donkeys. But Sawyer wasn't giving up. He liked Jarrett, who was a far better companion than the lazy-assed noble who treated them like his servants and did absolutely no good.
"That's a load of horseshit, Jarrett an' you know it. Maybe you an' me wouldn't know much about doctors an' doctorin' but Tate says the king's even impressed an' I think he would know." Sawyer countered.
"This ain't get getting the crops tended an' we still need to put those leaves on the pile." Jarrett dismissed. Sawyer shook his head as the older man walked away, but followed him over to the small field where all the crops were planted in orderly lines. Theirs might not be the best kitchen garden in the world, but Sawyer would've laid odds that it was at least tied for the neatest and nearly the best kept.
Sawyer heard Jarrett's pain-filled grunt as he bent to pull some of the weeds that had seemingly popped up over night and would have laid glim on a grimace twisting the older man's  face, though he couldn't see it.
"I can handle this, Jarrett, get your ass over t' the lady doctor, now. If you lay yourself up over this, who's gonna help with harvest, which t'ain't that far off now." Sawyer said, earning himself a black look. "An' no, you can't go after lunch or after y'finish the weedin', y'go now."
***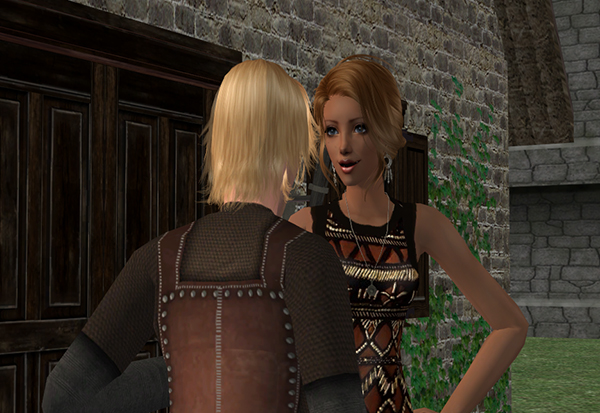 "You should have come earlier in the week, Master Jarrett, you didn't have to live all this time in pain." Kennedy scolded the butcher as they stood outside her barn.
"Lady Kennedy, it weren't nothing." Jarrett shook his head.
"I disagree."
"M'lady, work means pain, that's the way it is." He told her in a voice that was deep and rich was so quiet an errant bit of breeze from the tree behind her could practically rip it away.
"Pain means something's wrong, Master Jarrett, if working means you're always in pain, then you're doing something wrong." Kennedy crossed her arms over her chest and tried to meet his eyes, which darted away. "I want you to take it easy, you hear me? I'll take you over my knee and spank you if I hear you've been ignoring this injury."
"Animals don't care if you're hurt, neither do the crops. Sawyer's a good lad, but he can't do it all by himself." Jarrett told her.
"So get your other lazy-ass roomie to work." Kennedy said. At Jarrett's puzzled look she explained. "Alistair, he's there, what's he doing with all his time? Beating off?" The butcher looked even more puzzled. "Never mind the beating off."
"He's a noble, Lady Kennedy. I can't just order him to work."
"That is so stupid. He's a man just like any other man."
"It jist doesn't work that way, Lady Kennedy." Jarrett protested.
"Well, how bout it working like this: You don't work, you don't eat. That's what my aunt used to tell me and my cousins about our chores. And she had a lot of success in it." Jarrett shook his head, though a bit of a shy smile quirked the corner of his lips. Kennedy felt an answering smile herself, before she noticed the blonde man coming up the path behind Jarrett.
Apparently he saw her eyes slide past him, though they weren't gone for long, and he turned, bowing practically before he was all the way turned. "Your majesty." Jarrett murmured.
"Master Jarrett." Lock said with that "I'm trying really hard to be reassuring" smile that he seemingly always wore around his subjects.
"Now, you take that prescription over to Emanuel at the merchants' camp and get it filled, and you take it easy, else I'll sic the king on you." Jarrett nodded and bowed again before hurrying off. Hopefully he was going to the Merchant's camp, hopefully. Kennedy sighed. Boneheaded men.
"Problems?" Lock asked.
"He hurt his arm and it took him the better part of a week to tell me about it. Men! That is so like you." Kennedy shook her head.
"I thought Master Fox was going to bring over a new dress for you." The king looked Kennedy over, apparently ignoring the fact that Kennedy had just insulted his entire gender.
"He did, but I washed it last night and the flippin' thing wasn't dry when I got up this morning and so, I figured it was probably better if I wasn't running around in my skivvies. I think Jarrett would have died in embarrassment if he came up to the door and I answered it wearing panties and a bra." Kennedy paused as Lock blushed crimson. "So, what might I do for you this morning, your Majesty?"