Author's Note: Season two does not seamlessly match up with Season one. To spare a long winded "why" assume as we go into S2 that about six weeks has passed and both Peyton/Ren and Victoria/Camden have gotten married. Also the town may look a little different.
"Ah, my first guest!" Sawyer said from the porch of his, his! new house. Never in all of his years of basically being a street rat did he think that at seventeen he would have a house of his very own. Or mostly, he'd be spending the next year at least taking over some of the most distasteful jobs for Fox, Ren, and Blake in trade for the materials to furnish the house, but more than likely he'd have been doing that anyway. It was his and that meant no more stepping to someone else's rules or having to act like servant to a stuck-up brat of a nobleman while he sneered down his long pale nose.
He could get up when he wanted–or mostly, he still had to be up in time to meet Jarrett and Nessa at the barn or the pasture for feeding, milking, and tending the animals. And he could eat meals when he wanted to–or mostly, he still had to report to Master Fox's by midmorn for chores there, and just after noon, he had to report to Master Ren's, then mid afternoon, he had to go over to Master Blake's, then he'd have to run to the pasture to bring in animals and help with evening feed–well, damn. It looked like he was still going to be running to someone else's schedule.
"I–am?" Tate looked around himself surprised.
"Aye, I don't think Master Blake and Master Ren helping carry in the furniture really counts as a guest, an' nor does Mistress Raquel, as she came to help me with hanging stuff and arranging stuff." Sawyer said. "You're the first one who's just come by for a gab not to work."
"Oh! So this is it, aye?" Tate asked. Sawyer flushed a little as his chest puffed out like a little robin's.
"Aye." Sawyer said then the two of them stared at each other for a moment as if silently asking the other "now what?".
"So what were your plans for this afternoon?" Tate asked. He had the afternoon off to "get settled" no chores or tasks or anything he had to do not even feeding this evening.
"I was gonna get the back garden planted." Tate laughed wryly as Sawyer admitted it. Even when he had time off he was still doing chores. Well, that was the way it went, or at least that was the way it went when a lad wasn't born with a silver spoon in his mouth. Or as Mistress Peyton liked to say laughingly to Lady Victoria about Alistair "shoved up his ass".
"Well, lemme help you." The other lad smiled.
"You're a guest, an' this is your afternoon off, aye?" Sawyer said.
"An' what'll I do if I don't? Sit in your new living room and admire your new floorboards if you keep to your plans, an' if you don't? I'll be keeping you from getting your work done an' then you'll scramble to get it done after I leave or in between your other chores." Tate pointed out ruthlessly. Sawyer nodded in goodnatured defeat and jerked his chin at the fenced off plot that contained the kitchen garden.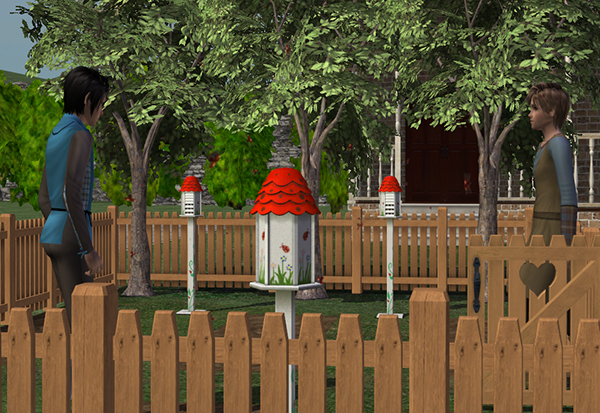 "So how's it feel to own your own cottage?" Tate asked.
"I don't even know. It hasn't settled in about me yet. All I can think of is how many years it'd have taken me to scrape together the glim for some small rat invested hovel."
"Isn't that rat infested?" Tate interrupted.
"Oh, aye, whatever." Sawyer laughed and waved, careful not to spill one drop of the manure he was pouring. "If I were still back playing in taprooms for glim, crusts, an' floor space. I'da been gray in the beard long before I had something like that." Sawyer looked at the house, the glass–glass, his house had glass windows, could you even believe such a thing?–glittering in the early summer light. Tate paused in the process of stabbing a training stake down into a patch of beans and looked first at Sawyer then at the cottage. "An' likely years in the grave."
"Aye that." Tate said.
"Did you think you would?" The king had, when he moved from his cottage into the castle, gifted Tate with his former home.
"Well, aye, eventually I suppose, but it hasn't really sunk in that it's mine. I keep walking the rooms expecting to hear–the king or Sir Wesley. An' half the time I'm not even there." Tate admitted. Tate, after all, was still King Lachlan's only servant and most of them weren't ready for invisible people answering doors or meals made by magic.
"Aye." Sawyer nodded. "Still, you've got some place to take the girls. If it were good enough for a marquis' son…" Sawyer trailed off.
"If there were a girl." Tate sighed.
"I thought you an' Zahrah were getting on." Sawyer glanced over his shoulder as Tate shoved the next training stake into the ground with the force of someone impaling something. "Well, there's other girls, y'know. What about Lady Olivia, she's real nice, an' a really good cook."
"An' didn't you say she'd been married once–an' she's gotta be near as old as the king." Tate said.
"So? That don't mean she ain't a girl. She's real pretty besides." Sawyer pointed out. Tate shook his sunbleached head and sprinkled a few seeds into the ground. They fell into silence after that, with nothing more said until they were seated across the table from each other, a bowl of Lady Olivia's soup in front of them both.
"So, what do you think?"
"It's, er, nice." Tate said.
"Out with it." Sawyer said. Maybe he'd been spending too much time with Mistress Peyton. "I'd rather have the truth."
"I thought your stuff was supposed to be new." Tate said."This all looks kinda–old."
"It's a style, Mistress Raquel tells me. Shabby Chic. J–" Sawyer stumbled to a stop, looking across the table toward Tate.
"You decorated the house for Lady Jolene, didn't you?" Tate said. Sawyer said nothing. "All of it? Upstairs? Bed, even?"
"…Aye." Sawyer admitted.
"But you don't even know that Lady Jolene will marry you yet." Sawyer raised his chin defiantly. "Wasn't that risky?"
"She's…"
"An' weren't you tellin' me there are other girls, what about Lady Olivia? You like her." Tate said.
"You don't understand, Tate." Sawyer shook his head. "I like Lady Olivia an' Lady Nessa an' Lady Tiffany, but… the thought of trying to live without Jolene is like the thought of living underwater. I can't breathe, I can't think, she's there in every daydream, in every plan. I can't get her out of my head. An'–and maybe the house will help convince her of that."
Tate shook his head, the stands falling in his eyes. "I don't think it works like that, Sawyer."
"It did for Sir Camden." The words fell out of Sawyer's mouth before he could stop them, painted with an unmistakable green. Was it just that Sir Camden had so much more to offer Lady Victoria? The fact that he was a knight and one of the King's advisers and she'd never go hungry married to him? And that he couldn't offer that to Jolene? He had no guarantees to her besides the fact that he loved her and wanted to do his best for her?
"Sawyer, don't." Tate said, a plea clear in his voice. "Jealousy don't do nobody any good." Sawyer looked hard at the other boy, something in his eyes, the way they closed tiredly, in the defeated slump of his shoulders.
"Is he still at it?"
"Sir Camden?" Tate asked, his face shocked.
"Nah, M'lord." The scornful sneer would tell anyone who Sawyer referred to.
"It's nothing, Sawyer." Tate lied. Sawyer knew it was a lie in the way his shoulders slumped down more and he turned his attention toward his bowl.
"You are worth twenty of M'lord's pretty face an' charming manner, Tate." Sawyer said. "All he's got is some fine words and a silver spoon stuck up his arse. You are so much more than that."
"You can't tangle with him, Sawyer. Dispossessed noble or not, he'd turn you into a flapjack. Gray, he told me about Alistair, he knew him afore his da cut him off. He's a dirty fighter–an' mean." Tate said.
"So why not give Lady Zahrah up, Tate?"
"I'm not like you, Sawyer. She–she… notices me." Tate said before dropping his attention to his bowl again. Sawyer sighed and looked at his friend then turned his attention back to his own bowl of soup.
It felt kinda odd, to put his bowls into his washbowl and then adjourn to his parlor. But that oddness came secondary to trying to figure out how to help Tate, especially when as far as Sawyer could see, Tate didn't even want help.
"Have you tried talking to the King?" Sawyer finally asked.
"The king has enough worries, he doesn't need a grubby little peasant boy whining about getting a girl to him." Tate shook his head.
"But you're more than that, Tate, and the king, he likes you. I'm sure he's got time to listen to you." Sawyer said. "If not the king, then how bout Sir Wesley, or Lord Gray, he's acting as priest right now, you could talk with him."
"You can't talk about girl stuff with Lord Gray, Sawyer, priest or no, he's just not somebody you can talk with about that." Well maybe Tate had a point. that statue in the church garden probably had more warmth and feeling than Lord Gray. "An' Sir Wesley, he might understand, but he's a knight. If M'lord pushed him, Sir Wesley'd beat him with the flat of his sword." Right, Sir Wesley probably did lack a bit of–perspective.
Tate might have been short, but he was stocky and strong in his own right. Still, that didn't mean that Tate knew how to fight. Other than the occasional one with his sibs, Sawyer doubted Tate had ever been in a fight.
"Well, I want you to know if you ever need a second for a fight with M'lord, I got you." Sawyer said finally. "An' if M'lord ever agreed to fight us both, Jarrett'd tear his hide off him, so y'got nothing to worry about."
Tate finally smiled and as sundown fell, Sawyer saw him off, quite forgetting there was one more thing…