It was perfect, absolutely perfect. Castles had always loomed high in her mind, probably since the first time that she saw Cinderella. Other girls saw the princesses in the Disney movies and thought "I'm gonna marry a prince someday." She'd seen the tall white spires of the castle in the opening scenes of the movie and thought "I'm gonna build a castle someday."
Then sometime around Junior high she realized that there weren't a lot of homeless royalty out there commissioning castles, so she'd put the dream aside, but it had never really died. Okay so she wasn't really going to be building it. And it wasn't exactly Cinderella's with all the spires and happy Neuschwanstein nonsense, ala Disney, but in some ways this was better. This was a real castle.
Something had been built to be functional, not just pretty.
And being not much more of a hike from the barn than the king's cottage, it would be a perfect new locale for their illustrious leader. Now Tiffany just needed someone to tell about it. She checked her shoes and hem for dust and dirt and found that other than a bit of cobweb from exploring the dusty halls, she was fine.
The barn was curiously quiet. She'd probably missed lunch–wouldn't be the first time–but she'd ate a big breakfast and she was never adverse to a big dinner, which would more than make up for the lack of noon meal.
"Hey, Heidi, where is everybody?" Tiffany asked, spotting the barn's one occupant, Heidi who was scrubbing down one of the counters.
"Oh, Peyton's out in the shed. Jolene went to go talk to Master Fox, and I believe Kennedy's out talking to the scarecrow."
"Again?" Tiffany sighed.
"Well, she came back from Raquel and Blake's grumbling about something, then went and weeded the garden like she was ripping choicer bits off something. She'd probably have talked to you, but you disappeared." The redhead was too polite to add "Again", though it hung very clearly in the air after the statement.
Tiffany shifted from one foot to the other, trying not to scuff her shoe like a schoolboy being scolded. Heidi could do disappointed like her Grandma Lacatelli and Tiffany never knew whether it was on purpose or not.
"Well, okay, so technically I disappeared again, but it was totally worth it!" Tiffany said. "I found a castle, well, sort of, it was once a castle–kinda in disrepair, not quite ruins. But I think it's still structurally sound and…" She trailed off, noticing the look on Heidi's face, that polite, I'm zoning out now while you ramble on about the baroque period and flying buttresses again look. "Meh, I'll go find Kennedy. If she's cussing out the scarecrow again, she probably needs to talk more than I do."
I didn't think I was that boring. Tiffany tried to avoid her shoulders slumping as a small sigh, relief–or something close enough to be kissing cousins, that came from behind her.
Yes, indeed, Kennedy was talking to the scarecrow–and it was worse than usual. She could hear her from here, but the real telling point was that Kennedy's hair was down. She almost never had her hair down, not in a figurative sense, just a literal one. Even for stuff like bed, Kennedy did something with it was only when she was extremely annoyed that she'd take it down and never remember to put it back up.
"I'd like to see his medical license." The doctor snarled at the vapidly grinning pumpkin in front of her. "I'm not doing all of this for my health, you know. I have lots of things I would rather be doing than bothering Master Carpenter's beloved wife. She's pregnant. I'm monitoring. Hovering? I'll hover his fucking ass straight into next Tuesday. 'Oh, but lady Kennedy'… grrr."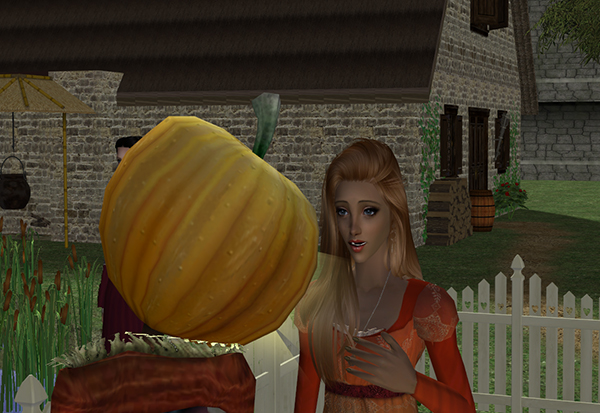 Tiffany started up the path toward the small kitchen garden. Hopefully she could be better to listen than the scarecrow, but a glint of red caught her before she could interrupt the still ranting doctor. Emanuel.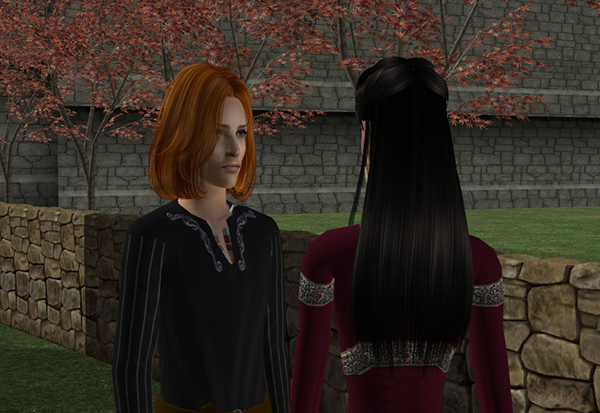 "Emanuel, what finds you in the neighborhood?" Tiffany asked, intercepting the apothecary before he could interrupt Kennedy. Given the way those two got along, it would either be massively helpful–or explode like something out of a bad action flick.
"Um," his blue eyes flicked past Tiffany to Kennedy. "Is there cobweb in your hair?"
"Huh?" she smoothed at the black strands. "Uh, maybe. I was out today and I found this castle not far from…" She trailed off noticing Emanuel's eyes were back on Kennedy's back. "I'd walk carefully around her. Heidi said she'd been out here for a while." Tiffany said stepping back to ostensibly pick up a loose stick that had fallen to the ground. Emanuel's eyes barely flashed to see that she wasn't there anymore before he turned toward Kennedy who had apparently stopped ranting at the scarecrow.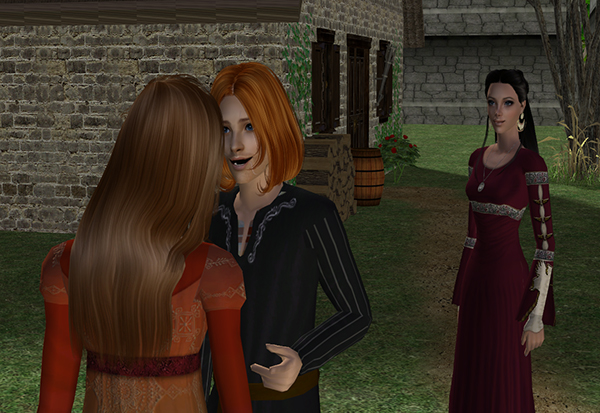 Nothing like feeling superfluous. Tiffany thought as Kennedy stepped into the chunk of ground Tiffany had been occupying only a few moments before. And when she started talking, his attention was hanging on every word. She tried not to sigh as she watched her best friend and the apothecary. Something familiar, the bitter, strong knife of jealousy flashed across her stomach.
Check another person off the list of people who'll wanna hear about the castle. She thought. But why should I mope? Tiffany pulled her chin up trying not to feel like the little kid who had just gotten chosen last at tag–even though she had been that kid for so long. Still, the sun was shining, she didn't have anything to do with her afternoon, she could just sit and enjoy the spring day and think about the castle.
Hopefully it wasn't one of those abandoned cause of the evil spirits places–it had stood empty for too long to be the plague, even the earliest plague victims–she could work around most of the other possible reasons the Shadowcrestians had abandoned it. But it wouldn't work too well to have Sir Wesley making signs to ward off evil every step he took in the castle.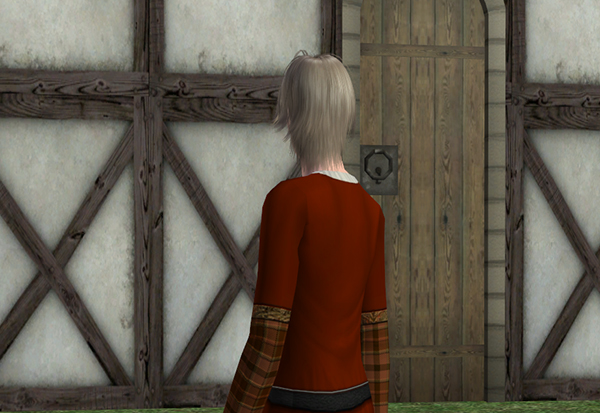 And there was some very interesting… Tiffany sighed as she noticed Ren walking up the slope toward the shed where Peyton undoubtedly was, even she couldn't pretend to be really interested in what she had to say about the castle, not when everwhere she rested her eyes there was…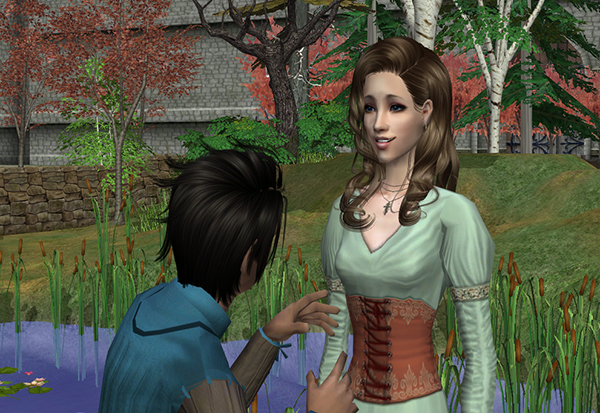 …someone else. Oh, the hell of being single in a house full of couples. And how fucking well she knew it. The guys in Shadowcrest at least had hope, they could imagine that there would be some girl who would come along…
… but she'd met all the guys in Shadowcrest and there wasn't a one that set her heart a pittering. There were ones she liked. Ones who were interesting to have conversations with, and all of them were gorgeous, was Shadowcrest just a genetically freaky place prone to very good looking people or had the plague just skipped all the freakisly good looking ones?
But there wasn't anyone who just made her lose it by walking into the room.
"Is something the matter, Lady Tiffany? You're looking forlorn." Tiffany tried not to jump as the King startled the hell out of her.
"Oh, just thinking."
"Of?"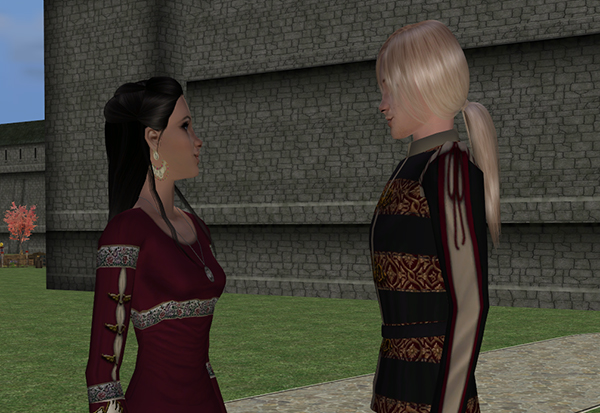 "Lord Tennyson." Tiffany said. No need to admit to Lock that she was moping–after all she had a castle now…
… Or at least she could keep telling herself that.
"Pardon?" Lock's deep kingly voice was confused and she looked up for a moment into his very blue eyes.
"Alfred, Lord Tennyson, he was a poet. In his poem Locksley Hall he said 'In the Spring a young man's fancy lightly turns to thoughts of love.' Just noticing all of the–fancies." She gestured around the yard where it seemed as if something had become bound and determined to kick her while she was down. Maybe she could just start talking about her castle, that'd bore everyone back to their chores, wouldn't it?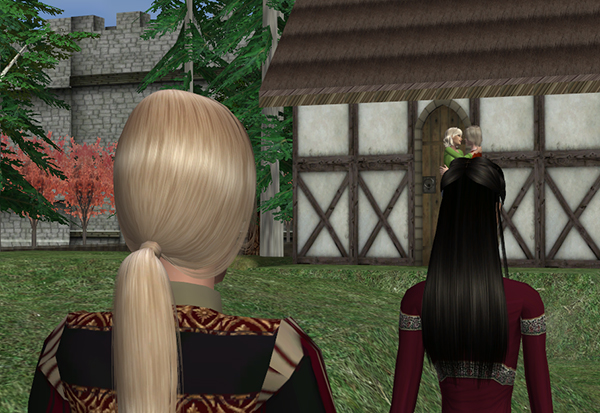 "Ah, aye. I understand." She noticed a blush starting across his cheeks and she turned to follow his gaze. If Ren and Peyton hadn't just stopped kissing, they were surely about to start, or maybe were just taking a break from it.
Something familiar crossed Lock's face, a mixture of wistful longing and sadness, with just a dash of hopelessness. When she turned back to him, he'd laced his long fingers together, clasping his hands to his chest and giving the most ridiculous grin like ever. He was such a dork. Just like a little brother, not that she had a little brother, but other people had cute little dorky adorable brothers. Not that anyone she'd known had one quite that… her thoughts trailed off as the king turned those so-very-blue eyes on her again.
"Is there cobweb on your sleeve?" He asked after a moment.
"Damn it!" She brushed furiously at one sleeve. Lock leaned toward her and elegantly lifted a bit off–the other sleeve of course. "Yeah. I-I was exploring a castle." Tiffany paused.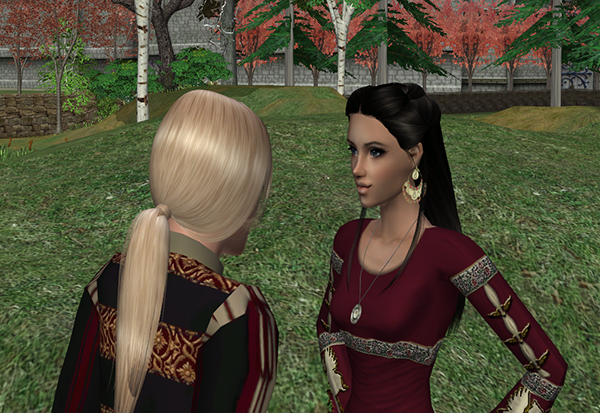 "A castle?" Rather than sounding dull and uninterested, his eyes glazing over in another "Tiffany's off about whatever-it-is-this-time", Lock's eyes looked intent–and interested? He leaned forward a little.
"Yeah, I'm not sure whose it was or whatever–it looks like it's been empty for a long while, the stables are almost completely collapsed and there's a hole in one wall, but it's only an hours brisk walk that way." She pointed.
"Oh, that would probably be the old Cooksley keep." He said.
"So, was it abandoned because of spirits or goblins or rogue ninjas or what?" Tiffany asked, waiting for the other shoe to drop, because it inevitably would. Nothing like a lovely spring day to kill a buzz.
"No, I believe the family just died out and it was an old keep, no one in the cadet branch wanted to fix it up." Lock said after a moment's thought.
"Sweet! So there's no reason I couldn't fix it up if I wanted?" Tiffany asked, the king blinked very long eyelashes at her for a moment, his head cocking to one side.
"I… suppose not." Lock said."Why?"
"Well, everyone keeps commenting that your house just isn't big enough. It was probably cool and great when you were just Lock the wizard of whatever, but you're the king now. You need someplace to put people. We're gonna have to start sitting out on your lawn to have meetings." Tiffany bit her lip. "And–it's a castle." She admitted toward another bit of cobweb on her sleeve. What did she pick up a spider who was fucking with her somewhere?
"Ah! Well, I had thought that I would just–" he trailed off for a moment and Tiffany could feel the hope dying in her eyes. "I guess I don't understand the importance of a castle."
"I've always wanted to build one, lacking the man power to do that…" She stubbed a toe at the ground.
"Oh! Well, it certainly would have room. Perhaps the next time I can pull myself away from my–my nanny goats–we could go look at the keep." Lock suggested. Tiffany's eyes came up fast and then shifted toward where the couples around her stood lost in each others eyes.
"Well, your nanny goats don't have you locked down now, why not now?" She hoped that he wouldn't hear the desperation in her voice.
But if he did, he was more than enough a gentleman not to say it. He made an after you gesture and Tiffany hurried off toward the castle. Maybe I don't have a Prince Charming, but at least I still have my castle. And maybe if she kept telling herself that–it'd be enough.